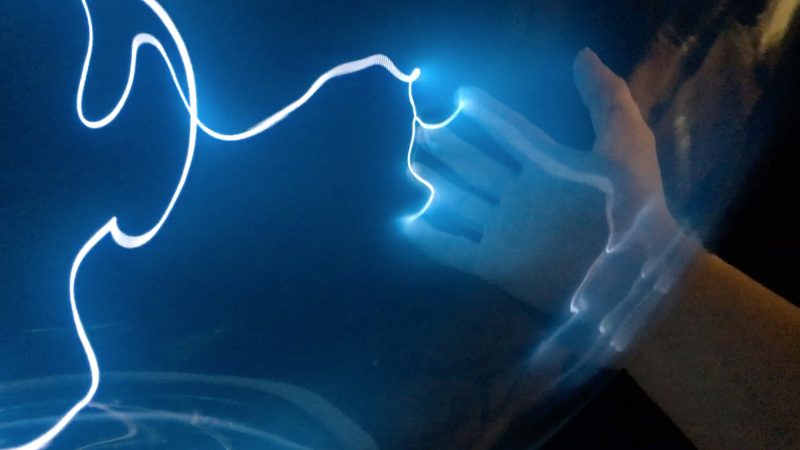 Advanced Topics in Plasma/Neon Art: A course for instructors and experienced practitioners.
SPACES OPEN FOR FEB. 9-12, 2023
This 3-1/2 day lecture and demonstration course is designed to help expand the practice of those artists and instructors already involved in plasma-based art and would like to deepen their knowledge. This intensive course will endeavor to cover the history and current practice of the fields that make up plasma art: vacuum science, electricity, and glass forming techniques used in plasma art, as well as a good number of associated techniques and technologies. 
The following topics (time permitting) will be covered:
Vacuum Science:
Its history from early times to the present
How gauging, pumps, and units developed
The types of gauges and pumps and how they work from early days to the present
Leak checking
The use of getters to produce clean gas fills (and how to make your own)
The best (and worst!) vacuum techniques and the role of conductance and measurement errors
Electrical Science:
The important discoveries and why they are relevant today.
The basic concepts and units required to understand and produce light from electricity including: voltage, current, power units, capacitance, inductance, energy stored in fields etc.
The basics of plasma transformers and power supplies
Glass Techniques:
Making glass-to-metal seals
Using solder glass
Unique glass shaping techniques using molds or on the lathe
Kiln-shaping glass
Miscellaneous Topics:
Application and mixing of phosphors
The basics of inert and noninert gases and their mixes
Specialty types of plasma discharges
Induction heating
*And much more… depending on time.
The cost for this course is $2400. (Nonrefundable deposit to hold a spot is $240.)
Spots for this course are limited.
Dates: Thursday, February 9th 2023 –Sunday, February 12th 2023.
Location: Strattman Design, 119 Braintree St, Unit 202, Allston, MA, USA
Note: Travel and lodging expenses are not included. Airbnb, hotels, and many convenient restaurants are within walking distances.
Questions:  Contact me at Wayne@Strattman.com or give a call at 617-304-1739
PLASMA ART INTENSIVE: PRIVATE WORKSHOPS WITH WAYNE STRATTMAN
CURRENTLY OPEN FOR SCHEDULING 2022
ABOUT
This workshop is a unique opportunity to expand your glassworking skills and learn about the art of plasma with access to our fully equipped flameworking studio in Allston, Massachusetts. Are you a beginner, intermediate or advanced level glass artist with an interest in creating lighted glass sculpture with gas and electricity? The workshop can be tailored to your individual skill level and can focus on a project of your choice with personalized instruction. Learn and practice a variety of aspects of the plasma art process including borosilicate flameworking, plasma processing/gas filling, special effects, and more.
"I'm doing one-on-one Plasma Art classes because I've been committed throughout my career with teaching, writing, and advocating for plasma art, and one-on-one instruction is the quickest and most efficient way to communicate this art form. Our studio has the best collection of equipment and supplies to make nearly any form of plasma art. With the full set-up already here, it makes both teaching and learning easier. I can also tailor the class to individual students' interests and abilities and move at their own rate. Personally, I love to work together with the people who come here, and it allows building a lasting personal friendship. My students generally bring many valuable insights and backgrounds, and it is always an interesting and rewarding collaboration."
Wayne Strattman
WORKSHOP FORMAT
Workshops will consist of two and a half consecutive week days (some weekend dates may be possible as well).
Day 1: (evening) Discussion and overview
Day 2: (full day)
Day 3: (full day)
LOCATION
Workshops will take place at:
Strattman Design
119 Braintree St, Unit 202
Allston, MA 02134
*Free parking is available at the building during the day. We are also closely accessible to public transportation.
COST
$2,000 USD.
Basic teaching materials are included.
RECOMMENDED READING BEFORE TAKING A WORKSHOP
The Art of Plasma (2022) This newly published text provides a hands-on guide to plasma art, covering the history, theory, and practice of creating with gas, glass, and electricity. Workshops can explore all techniques covered in this book and more.
*Featured in The Flow Magazine and Glass Quarterly
SCHEDULING YOUR WORKSHOP
Now booking dates for November and December 2022
Contact Wayne:
617-266-8821
TRAVEL AND ACCOMMODATIONS IN BOSTON
*If you are flying, we can provide transportation to and from Boston Logan Airport.
*There are many options in the area for hotels or an AirBnb of a range of budgets;  we can provide recommendations.
THINGS TO DO IN BOSTON
Some lists of Boston area events and activities:
https://www.thebostoncalendar.com
https://www.boston-discovery-guide.com/top-boston-attractions.html
https://www.bostoncentral.com/events.php
Boston is home to a wide array of museums and galleries including:
The MIT Museum, founded in 1971, is located at the Massachusetts Institute of Technology in Cambridge, Massachusetts. It hosts collections of holography, technology-related artworks, artificial intelligence, architecture, robotics, maritime history, and the history of MIT. 
The Harvard Museum of Natural History is a natural history museum housed in the University Museum Building, located on the campus of Harvard University in Cambridge, Massachusetts. One of Harvard University's most famous treasures is the internationally acclaimed Ware Collection of Blaschka Glass Models of Plants, better known as the "Glass Flowers." This unique collection was made by Leopold (1822-1895) and Rudolf Blaschka (1857-1939), a father and son team of Czech glass artists. Over fifty years, from 1886 through 1936, the Blaschkas produced 4,300 glass models that represent 780 plant species.
Harvard's oldest museum, featuring European & American art from the Middle Ages to the present day.
Harvard University's Collection of Historical Scientific Instruments, established 1948, is "one of the three largest university collections of its kind in the world".
The Isabella Stewart Gardner Museum is an art museum in Boston, Massachusetts, which houses significant examples of European, Asian, and American art. Its collection includes paintings, sculpture, tapestries, and decorative arts.