About Strattman Design
Innovations in Plasma Light Technology and Art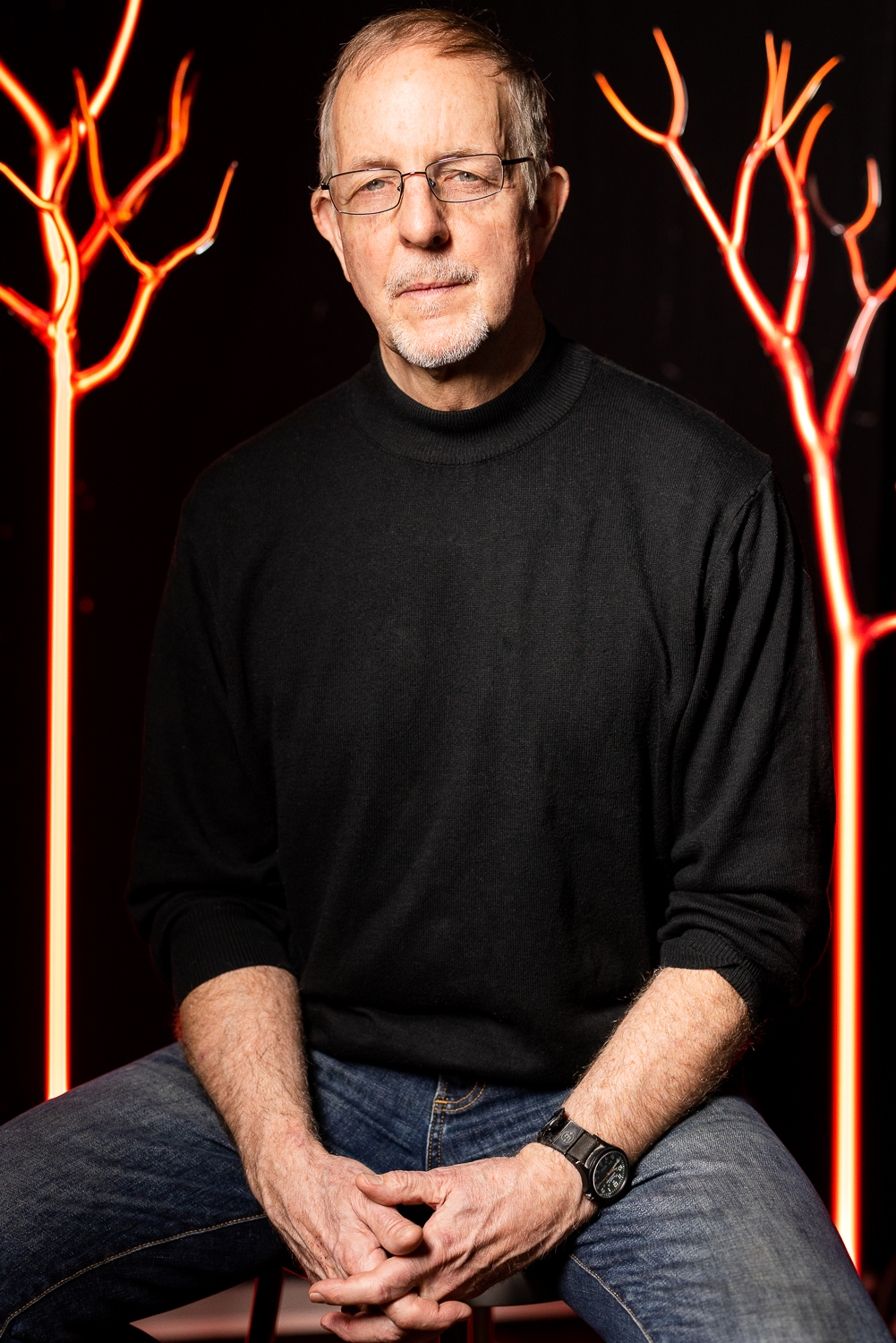 Wayne Strattman's work encompasses over 30 years of innovation in lighted glass plasma technology, as an artist, designer, researcher, teacher, advocate and author.
"Essentially what I do is take electricity and turn it into light using glass as the medium"
Since 1983, Wayne Strattman's Boston-based company Strattman Design has grown to become a global leader in crafting lighted glass plasma displays for science museums, trade shows and industry worldwide. 
Combining his background training in engineering with his love of sculpture and interest in the history of electricity—specifically those technologies using glass—Wayne not only taught himself the field without any formal glass training but also proceeded to pioneer many new techniques now intrinsic to his medium.
Through exploring and researching every aspect of the subject from glassblowing methods to the design of vacuum equipment, gauges and high voltage electronic power supplies, Wayne began creating and teaching neon art, including a two-semester course in scientific glassblowing at the Massachusetts Institute of Technology. In addition to teaching he wrote extensively for the neon art journal Sign of the Times, contributing over 100 articles and receiving the American Business Press editors' Award for Technical Journalism.
Wayne also published the textbook "Neon Techniques" which remains an industry standard. His work ultimately has ventured beyond conventional neon, advancing the current technologies through utilizing a number of his original patented lighting techniques.
Wayne received the first and only PhD in Neon Art and Technology, by published papers from the UK University of Sunderland in 2008, for his many years of advocacy and advancement of this field.
With a desire to foster the recognition of lighted glass sculpture—and encourage an ongoing engagement with the medium among emerging artists—Wayne has curated art exhibitions and supported the International Glass Art Society by serving on their Board of Directors and founding and endowing their "Critical Dialogue" lecture series that examines the relationship between today's glass art practices and their place in the context of both historical and contemporary fine art.
Wayne has taught master classes for artists at Pilchuck Glass School, Penland School of Craft, Corning Museum of Glass, UrbanGlass, Norfolk and the International Festival of Glass in the UK. In 2017 Wayne was honored as the recipient of the International Glass Art Society's annual Lifetime Membership Award.
Wayne has invented unique lighting technologies such as Luminglas- an interactive flat panel plasma light that Star Trek fans will recognize as the charging station for the Borg. While working on creating a plasma TV, he came up with a process of fusing window glass together in a kiln to make  flat glass that lit up and was kinetic. Today, his work remains on the cutting edge of lighted glass engineering, with many recent developments of new effects never seen before.